Bench 4: The Wells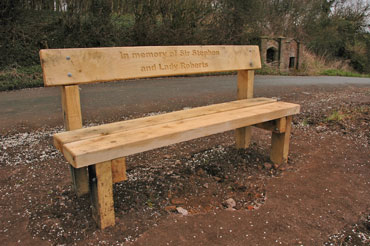 The soothing sound of running water from the old well-head reminds you of the natural power flowing past the village malthouse that perched on the roadside bank and down the delightfully wooded arms of the Lydebrook via the Loamhole Dingle to emerge at the Coalbrookdale's upper furnace pool.
From the tell-tale earthworks of the earliest coal-mining bell pits to your right and the watery reminder of more recent basalt quarrying along the base of Darrow Hill, let your eye wander across the 'black gold' fields of Coalmoor whose mineral wealth was shipped to the Darby family furnaces by one of the country's first railways.
Enjoy the view over Dudley on the horizon to Kinver Edge and to the very south you might even pick out the Malvern Hills.
Linger and enjoy everything Little Wenlock's outlook on the Area of Outstanding Natural Beauty offers your every sense; discover more about the individual benchwalk places.
Please add your own views and knowledge by e-mail to [email protected]