Bench 7: The Moors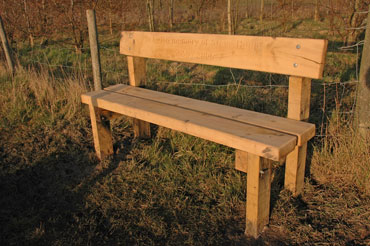 You're at one with an altogether different, almost upland environment here in the wind-swept gap between the village and Braggers Hill where the benches grew in Harris' coppice and the local gallows may once have stood.
Resting in the second of the village's three medieval open fields, look up to the rocky Needle's Eye crowning The Wrekin above and open your ears to the background song of hovering skylarks, the occasional 'phroak'of wheeling ravens and, perhaps, the haunting cry of a lone curlew.
The Tom Pickering benchwalks seek to build on Little Wenlock's strong sense of 'place', providing opportunities for all to sit and savour the wonderful surroundings of the Shropshire Hills Area of Outstanding Natural Beauty (AONB).
Inspired by and dedicated to a true country boy from Dawley, they have been made possible by the hard work of many of his friends and the generous support of the Shropshire Hills AONB and E.ON UK.
Linger and enjoy everything Little Wenlock's outlook on the Area of Outstanding Natural Beauty offers your every sense; discover more about the individual benchwalk places.
Please add your own views and knowledge by e-mail to [email protected]