Settlements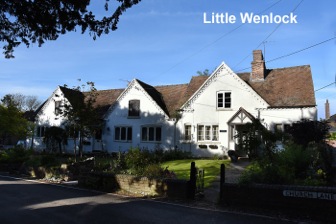 Over the centuries, the settlements of the parish have changed considerably, reflecting changes in local industry and employment.
There are currently a total of 221 houses in the parish - 135 in Little Wenlock, 54 in New Works and 32 in the outlying settlements.
Of these over 80% are detached, and under 20% semi-detached or terraced. The majority of the houses are of 20th Century construction and relatively large, with half having four or more bedrooms, a third three bedrooms and only around 10% two bedrooms or less. Not surprisingly, given the location and relative size of properties, more than 60% of them are Council Tax rated Band D or above. This compares with around 20% in the Borough as a whole.
The balance between owned and rented properties is approximately 90:10, with the overwhelming majority of houses having central heating and mains drainage. While mains gas supplies are available in New Works, most central heating in Little Wenlock is oil-fired, although a number of properties have electric heating systems or LPG.
Little Wenlock
A church built to serve the original settlement of Little Wenlock was probably in existence by the late 12th Century; the list of incumbents goes back to 1260. The original chancel and north aisle of the present building are obviously medieval in origin. The church was enlarged in 1822 and 1875/76 to accommodate a substantial increase in the population.
The oldest surviving domestic building in Little Wenlock village (Rose Cottage) dates from the late 15th Century. A fine group of buildings (including the Old Hall, Stone House and Manor House) reflect the development of the late 16th and early 17th Centuries. Home Farm, the original workhouse (Little Worth), the school (Church Lane) and the parish rooms (Wenboro Cottage) date from the 18th and 19th Century agricultural and mineral exploitation of the parish. In the early 19th Century there were a total of five public houses in the village alone.
New Works
An area of Huntington Heath was already known as New Works by the early 18th Century, with the present settlement developing from a group of squatters cottages associated with the local mineral workings.
Other Settlements & Farmhouses
Other housing clusters in the parish include Huntington, Little Worth, Coalmoor, Steeraway and Willowmoor, with Upper and Lower Huntington Farms, Upper and Lower Coalmoor Farms, Steeraway Farm, Willowmoor Farm, Wrekin Farm, Gibbons Farm, Spout Lane Farm, Moors Farm and Leasowes Farm mainly dating from the 17th and 18th Centuries.
As recently as the 1950s the parish supported 24 working farms.