Bench 6: Poolside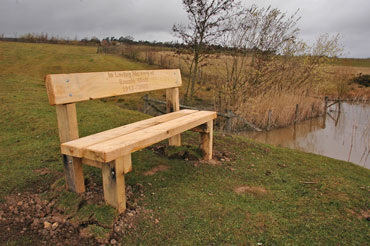 Reflect on the healing powers of nature, in a world of your own at the waters edge where dragon flies dance, swallows swoop and mallard and moorhen continually squabble.
It's hard to believe this hidden haven was so recently a coal mine; difficult to imagine previous industry all around, and impossible to picture the original medieval Timber Wood.
The Tom Pickering benchwalks seek to build on Little Wenlock's strong sense of 'place', providing opportunities for all to sit and savour the wonderful surroundings of the Shropshire Hills Area of Outstanding Natural Beauty (AONB).
Inspired by and dedicated to a true country boy from Dawley, they have been made possible by the hard work of many of his friends and the generous support of the Shropshire Hills AONB and E.ON UK.
Linger and enjoy everything Little Wenlock's outlook on the Area of Outstanding Natural Beauty offers your every sense; discover more about the individual benchwalk places.
Please add your own views and knowledge by e-mail to [email protected]