Parish Plan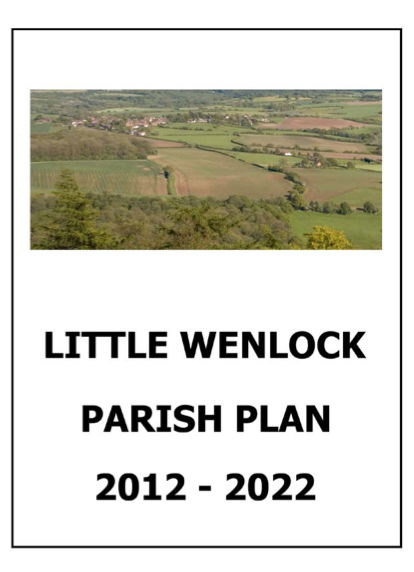 Rather than merely responding to the plans of others for our parish, as it develops within the Borough of Telford & Wrekin, we want to take the lead in guiding our own development.
We want to preserve what we believe to be really important and valuable about our parish and community. We want to build on the things we feel are right and correct, the things we think are wrong in our parish and community, to make a better life for everyone - today and tomorrow.
The Little Wenlock Parish Plan is our community's expression of the way we want our community to develop in the most sustainable way possible. It provides a solid framework for our future development, allowing us to promote those things we want while resisting those we don't.
Making it happen, however, depends upon everyone playing their part, translating the Parish Plan's guidelines into firm and sustained action towards our overall vision of.....
"The highest possible quality of life for all our residents within a thriving modern village community and a diverse, tranquil and sustainable rural environment."
A questionnaire designed to obtain the views of all residents, on how they would wish the Parish to develop over the period 2012 - 2022, was circulated in April 2010. A follow up questionnaire was also sent to residents in May 2010 on subjects that required more detailed opinions.
The responses were very encouraging, and will enable the Parish Council to formulate local policies on a range of topics including roads, transport, development, recreation, energy conservation, village facilities, countryside, community, and any other facilities considered desirable.
July 2010
Many thanks to all who have completed the consultative questionnaires.
The expense of printing/publishing a hard copy of the plan for every resident in the Parish cannot be justified.
Alternative funding sources have virtually disappeared, therefore Little Wenlock Parish Council realises that we will have to fund the project ourselves. One cost saving option is to ask those of you with computers to access the plan electronically. It will be published on our website.
Copies on a CD are also available from John Marcham, Parish Clerk, Telephone 01952 505734
If you have not got a computer and wish to have a paper copy of the plan please give your name and address to our Clerk, John Marcham, at Atalaya, The Alley, Little Wenlock, Telford, TF6 5BG or telephone 01952 505734. This will enable us to minimise the number of paper copies we order from the printer. This request will also be circulated via the Community Newsletter.