Little Wenlock Parish Council.
Indoor Bowls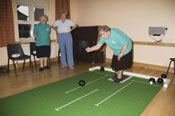 Although membership is not restricted, older people make up the core of the thriving indoor bowls club which has been running for well over 10 years.
Given a new lease of life by the increased length as well as facilities of the new village hall, the club meets every Wednesday evening
7 - 9pm, playing simultaneously on two mats laid side by side – something previously impossible in the old hall.
Contact Rosemary Carter 01952 505573